In this bonus episode of the Draft Horse Digest Podcast we are chatting with Kyle Forsyth about his recent judging assignment in Loveland, Colorado.  Some of the nation's top hitches were present for this show and Kyle was given the difficult task of putting them in order.  We discuss what he looks for in a hitch and get his insight into some other draft horse related topics while we have him on the line.  This is a great episode with a top notch horsemen!  We discuss:
Kyle's overall view of the Loveland show
What hitches stood out to Kyle
What Kyle looks for when judging a show
The North American Six Horse Hitch Classic Series Competition
How the Classic Series works
How Kyle and other horsemen and women are working toward taking the Classic Series to the next level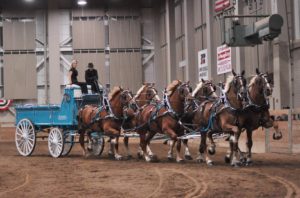 Check out Country Lane Belgians on Facebook.
For more information on the North American Six Horse Hitch Classic Series Competition, Click Here.
Be sure to like and share the podcast, and follow our Facebook page for weekly episode releases.
Thanks for listening!
Thank you to our Podcast partners for their support.  Be sure to look up these great companies:
**The podcast is now available on the Stitcher app for Android devices and iTunes for iOS devices.  Subscribe to get notifications when new episodes drop!**
Click here to subscribe on iTunes
Click here to subscribe on Android
Be sure to Like our Facebook page for future updates on new episode releases!
Music:
"Cut and Run" Kevin MacLeod (incompetech.com)
Licensed under Creative Commons: By Attribution 3.0 License
http://creativecommons.org/licenses/by/3.0/
**Android Users Select "Play In New Window" Option**
Podcast: Play in new window | Download