We have a great episode this week featuring Shannon Cobbs of Grandview Clydesdales.  Shannon has grown up in the draft horse industry and has exhibited Clydesdales his whole life.  In addition to his show ring successes, Shannon has operated one of the top Clydesdale breeding facilities in the country with his parents, Darryl and Lorraine Cobbs.  In this episode we discuss:
The attributes Shannon breeds for
How Shannon evaluates new born foals
How Shannon makes culling decisions
What he thinks it takes for a horse to make a great one
Some entertaining stories from over the years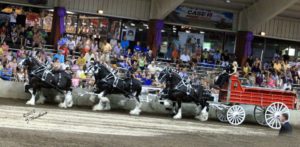 Follow Grandview Clydesdales on Facebook.
Be sure to like and share the podcast, and follow our Facebook page for weekly episode releases.
Thanks for listening!
Thank you to our Podcast partners for their support.  Be sure to look up these great companies:
**The podcast is now available on the Stitcher app for Android devices and iTunes for iOS devices.  Subscribe to get notifications when new episodes drop!**
Click here to subscribe on iTunes
Click here to subscribe on Android
Be sure to Like our Facebook page for future updates on new episode releases!
Music:
"Cut and Run" Kevin MacLeod (incompetech.com)
Licensed under Creative Commons: By Attribution 3.0 License
http://creativecommons.org/licenses/by/3.0/
**Android Users Select "Play In New Window" Option**
Podcast: Play in new window | Download
Subscribe: RSS