In Episode 19 we are discussing the subject of foaling and all that goes with it.  Windermere Farms has delivered well over 100 foals and Gerald and Melissa give us some of the tips and information they have garnered over the course of 4 decades of breeding experience.  In this episode we discuss:
labor signs in mares
monitoring mares
foaling inside vs. outside
delivering foals
what to do when a mare isn't milking
helping foals stand
helping foals drink
when to wean
much, much more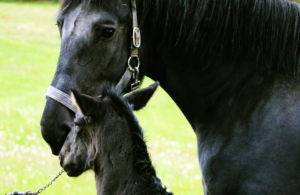 Be sure to like and share the podcast, and follow our Facebook page for weekly episode releases.
Thanks for listening!
Thank you to our Podcast partners for their support.  Be sure to look up these great companies:
Shanahan Harness– Premium Patent Leather Harness Products
Equi-lete Premium Products– Quality Equine Supplements
Ruhl Insurance– Equine and Agricultural Insurance Specialists
**The podcast is now available on the Stitcher app for Android devices and iTunes for iOS devices.  Subscribe to get notifications when new episodes drop!**
Click here to subscribe on iTunes
Click here to subscribe on Android
Be sure to Like our Facebook page for future updates on new episode releases!
Music:
"Cut and Run" Kevin MacLeod (incompetech.com)
Licensed under Creative Commons: By Attribution 3.0 License
http://creativecommons.org/licenses/by/3.0/
**Android Users Select "Play In New Window" Option**
Podcast: Play in new window | Download