Episode 8 of the Draft Horse Digest Podcast is packed with awesome information on driving hitch horses competitively.  For this episode we are joined by one of the most accomplished hitch drivers in the draft horse industry, Ross Honsberger.  Ross really needs little introduction when it comes to the harness horse ring, as he has driven champion six horse hitches in multiple breeds.  Ross, his wife and their son reside in Michigan where they train and drive a six up of Percheron mares under the Belleview/All Star Farms banner.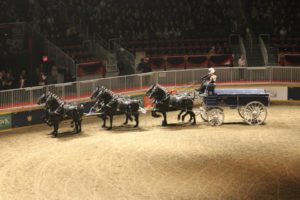 In this episode we discuss:
How Ross selects new horses to work into the hitch
What types of things he is thinking about when driving in the show ring
How his wife, Nicole, assists him from the co-pilot seat
Ross's view of the draft horse industry and where we are heading in our breeding efforts
much, much more!
Thanks to all our listeners for tuning in each week for the podcast.  We appreciate your support!
Be sure to like and share the podcast and follow our Facebook page for weekly episode releases.
Thank you to our Podcast partners for their support.  Be sure to look up these great companies:
**The podcast is now available on the Stitcher app for Android devices and iTunes for iOS devices.  Subscribe to get notifications when new episodes drop!**
Click here to subscribe on iTunes
Click here to subscribe on Android
Be sure to Like our Facebook page for future updates on new episode releases!
Music:
"Cut and Run" Kevin MacLeod (incompetech.com)
Licensed under Creative Commons: By Attribution 3.0 License
http://creativecommons.org/licenses/by/3.0/
**Android Users Select "Play In New Window" Option**
Podcast: Play in new window | Download
Subscribe: RSS