This week on the podcast we are joined by Ryan Burger of Burger Percherons.  The Beth Burger Family has been breeding champion Percherons off their family farm in Ohio for several decades and continue to be a top competitor in the halter ring while also breeding horses that have been winning in the hitch arena for other farms.  Since Ryan has taken over most of the breeding operations at Burger Percherons they have enjoy an immense amount of success, breeding and exhibiting champions at multiple state fairs and the National Percheron Show, as well several World Champions to their credit.  Nearly all of their horses are traceable to one solid foundation mare, and in this episode Ryan gives us an inside look at what has helped to make their breeding operation so successful and what was special about that one foundation mare.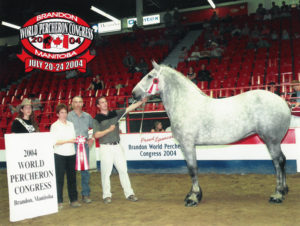 In this episode we discuss:
The foundation mare of Burger Percherons, Koncarnona Misty
What criteria makes a great foundation mare
What Ryan looks for when selecting a stallion to breed to
Why it is important to avoid becoming "barn blind"
How you can use other breeding programs to improve your herd
What Ryan sees as the challenges facing our draft breeds
much, much more!
Thanks to all our listeners for tuning in each week for the podcast.  We appreciate your support!
Be sure to like and share the podcast and follow our Facebook page for weekly episode releases.
Thank you to our Podcast partners for their support.  Be sure to look up these great companies:
**The podcast is now available on the Stitcher app for Android devices and iTunes for iOS devices.  Subscribe to get notifications when new episodes drop!**
Click here to subscribe on iTunes
Click here to subscribe on Android
Be sure to Like our Facebook page for future updates on new episode releases!
Music:
"Cut and Run" Kevin MacLeod (incompetech.com)
Licensed under Creative Commons: By Attribution 3.0 License
http://creativecommons.org/licenses/by/3.0/
**Android Users Select "Play In New Window" Option**
Podcast: Play in new window | Download
Subscribe: RSS