Today on the show we take an informative look into equine photography with accomplished photographer, Judy Brodland.  In the first half of the episode Judy shares some details about her equipment and the kind of equipment and camera settings an amateur can use to get professional quality photos of their horses.  In the second half, Judy shares some of the tricks of the trade specific to equine photography, including:
How she uses sunlight in her photos to increase dramatic effect
Tips on how to keep your horses expressive during the photo shoot
How she times moving pictures
How handlers can assist photographers in the ring to get the perfect image
What photo angles work best
Where Judy's favorite on location shoots have been and where she is hoping to go next
Much, much more.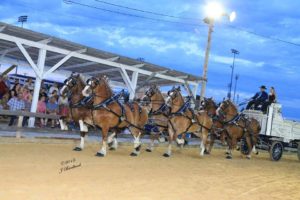 Follow Judy on Facebook, here.
Thanks to all our listeners for tuning in each week for the podcast.  We appreciate your support!
Be sure to like and share the podcast and follow our Facebook page for weekly episode releases.
Thank you to our Podcast partners for their support.  Be sure to look up these great companies:
**The podcast is now available on the Stitcher app for Android devices and iTunes for iOS devices.  Subscribe to get notifications when new episodes drop!**
Click here to subscribe on iTunes
Click here to subscribe on Android
Be sure to Like our Facebook page for future updates on new episode releases!
Music:
"Cut and Run" Kevin MacLeod (incompetech.com)
Licensed under Creative Commons: By Attribution 3.0 License
http://creativecommons.org/licenses/by/3.0/
**Android Users Select "Play In New Window" Option**
Podcast: Play in new window | Download
Subscribe: RSS